This post comes a couple of days after riding the Shimanami Kaido. It's took a while to convince myself that it was worth writing this but I guess it serves as a way of concluding my first ever long distance ride overseas. The best part of which was it was done with a loved one.
The worst part? Was that my Garmin hung midway through the ride and I lost a days worth of ride track. Looking at the bright side, was that I didn't lose everything, thanks to Strava on my iPhone…Â
The Route
The route is 77km one way from Onomichin Port to the city of Imabari in Japan. Along which, there a quite a few scenic spots where you would have to cross the connecting bridges between islands. Each bridge has a ramp (3-4% inclines) only meant for cyclist and small scooters (<125cc)  and is managed to allow cyclist a manageable climb to cross. Small rest spots exists along the way with vending machines providing fluids if you ever run out.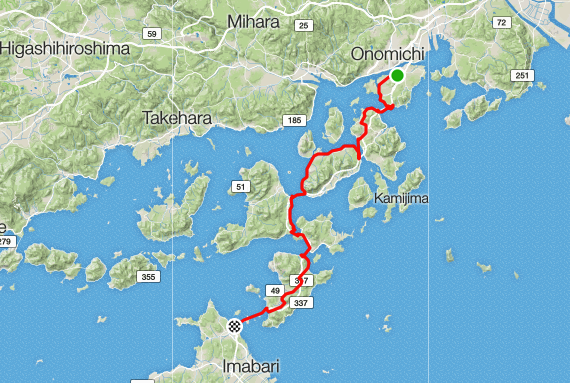 The Plan
77km doesn't take too long to complete if you are a seasoned cyclist, but part of doing this ride is to enjoy the Japanese scenery, air and country side. Zooming past everything would have been a waste. But yet, who doesn't was to say that they have completed a ride in good time?
I've opted for a 3 day ride with Day 1 zooming past everything and then taking a stay for a night in an Imabari Hotel. Day 2 completes an approximate of 48.4km and takes a break in Setoda right next to the Setoda Port. Day 3 completes the remaining 32.6 km and heads back into Onomichi to stay for the night and to enjoy the night.
The Time
I'm an experienced rider taking this trip together with someone that rides only recreationally. Minimal stops along day 1 but multiple stops on day 2 and 3 for food tasting and photo opportunities.
Day 1 – 77km. Onomichi to Imabari following the commended route in 5:35hrs
Day 2 – 48.4km. Imabari to Setoda in 3:10hrs
Day 3 – 32.6km. Setoda to Onomichi in 1:59hrs
The Clothes
The trip was taken on the 1st week of March nearing the beginning of spring and the cherry blossoms are starting to bloom. The temperature ranges from 12 degrees in the early morning to 22 degrees on a sunny afternoon. Visibility is very good with occasional light fog in the early morning.
The temperature ranges from 12 degrees in the early morning to 22 degrees on a sunny afternoon.The cool temperatures means that you would hardly prespire like you normally would if you have lived along the equator all your life. However, this could mean that you might feel chilly on the downhills and early morning.
Cycling jersey, shorts, arm and leg warmers with a wind proof jacket is sufficient. I have seen others do with jeans but I don't recommend this if you are planning to do 77km in a stretch. Keep in mind that you will warm up as you ride and the slope up the bridges will definitely make you appreciate the cooler environment.
The Ride
Along minor roads and on the blue line. There are sufficient tracks that leads you on a gentle gradient to the various bridges. No problem for a beginner rider as long as you are not rushing up the slopes. Go unto a low gear and spin. You'd find that it's not that bad.
There are many stop points along the way and scenic spots that gives you a place to rest and some photo opportunities. The island views are beautiful and the bridges looks really grand. Especially when you are just about to cross them. Each bridge takes about 2-5 minutes to ride across and the various end slopes about 2-5 minutes to climb. Of course my the longer the climb, the more worthy the cruise downhill at the other end!
A few major spots that is really cool to stop at
Setoda Port
Setoda sunset beach
The cyclist sanctuary
Ice cream place near Setoda
I do not know the name of all the places, but here some of the pictures I took of the ride.
The Cycle Hotel – Onomichi U2
I decided to add in this small section after reviewing what i wrote. I had to give some kudos to the U2 Cycle hotel. Being my first ever stay at a cycle hotel, i must say that i was reasonably impressed with both the very industrial design and the Japanese service. Here are some photos i took of the view in the hotel. Awesome stuff.